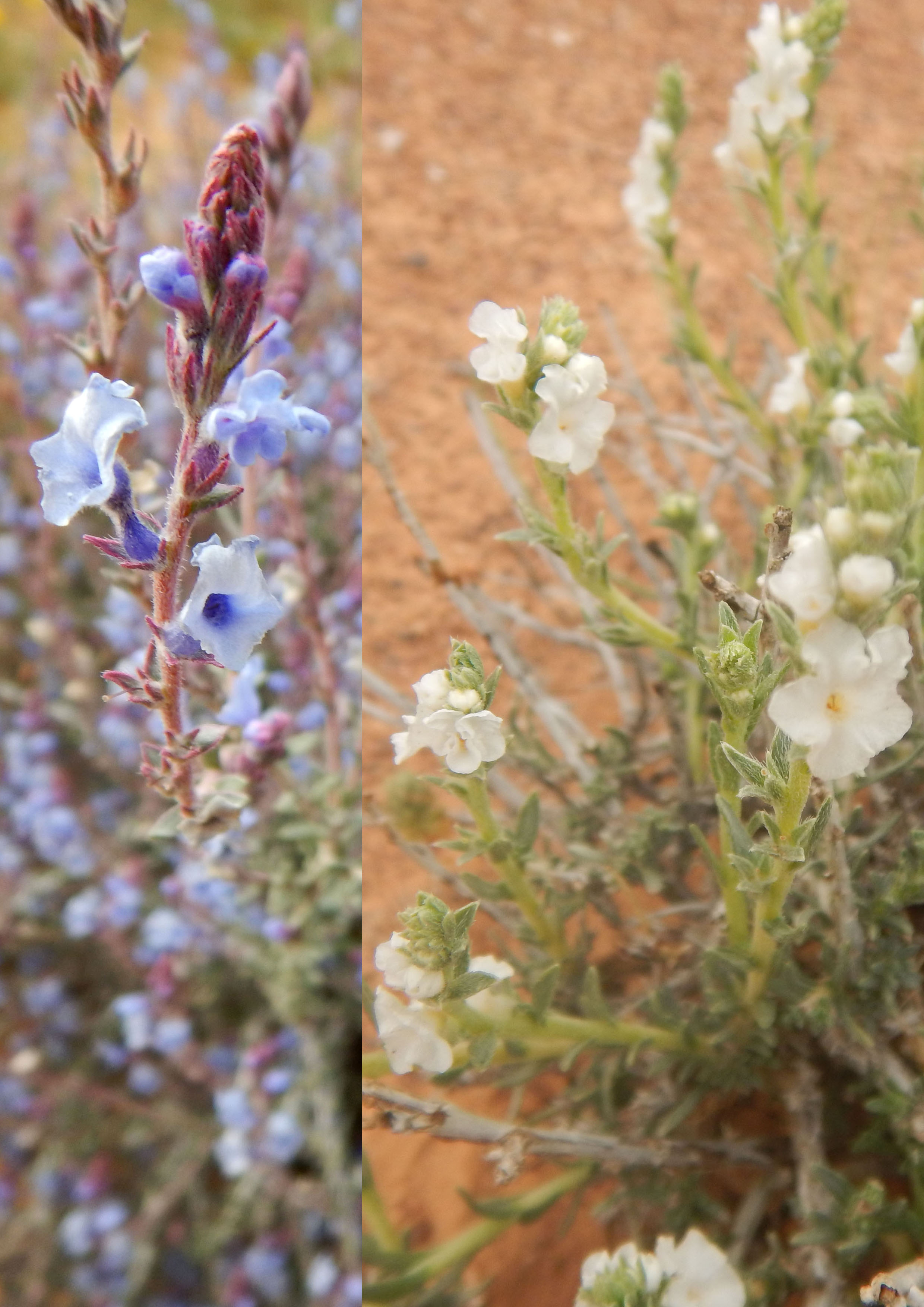 Al Yasmina – Jasminum – ⵜⴰⵣⵏⵣⴰⵡⵜ – Contributions à l'étude de la flore du Maghreb & du Sahara

Al Yasmina 2 : 6 (2021)
In a first, rare species Echiochilon fruticosum Desf. with white flowers found in desert rangelands of Tunisia
Mouldi Gamoun
Cyrille Chatelain
Mounir Louhaichi
Mohamed Abdelkader


Al Yasmina 2 : 6 (2021)
Echiochilon fruticosum Desf. - 1/4
Contribution  :
In a first, rare species Echiochilon fruticosum Desf. with white flowers found in desert rangelands of Tunisia
Mouldi Gamoun1*, Cyrille Chatelain2, Mounir Louhaichi1, Mohamed Abdelkader3
1 International Center for Agricultural Research in the Dry Areas (ICARDA), 2049 Ariana, Tunisia.
2 Conservatoire et Jardin botaniques de la Ville de Genève, C.P. 71, 1292 Chambésy, Suisse.
3 Office of Livestock and Pasture (OEP), Ministry of Agriculture, Fisheries, and Water Resources, Tunisia.
* corresponding author : M.Gamoun@cgiar.org
Reçu le 22/08/2021. Révisé le . Publié le .
Citation :
web => https://alyasmina.org/alyasmina-2021/echiochilon.html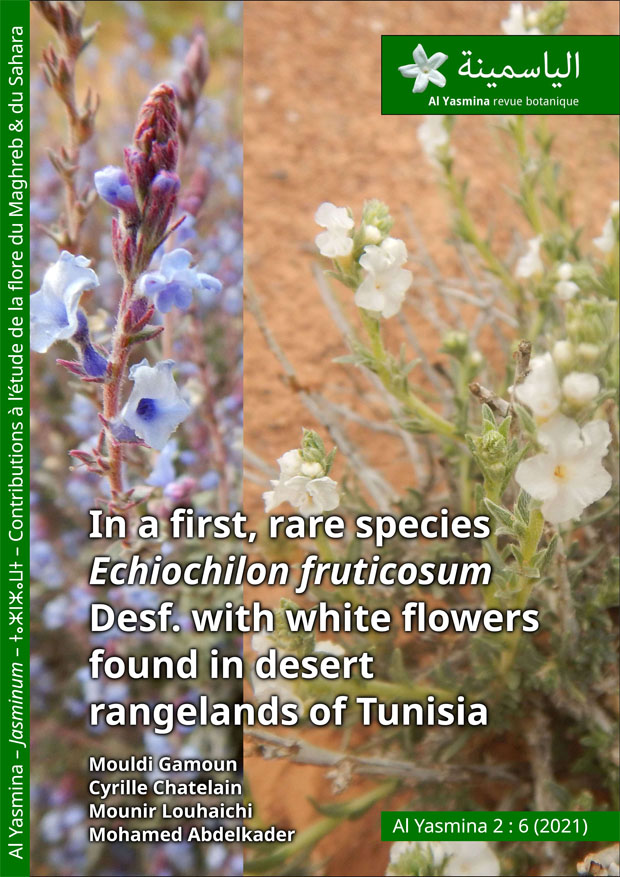 Abstract
Résumé
Introduction


Figure 1. Distribution of Echiochilon fruticosum Desf.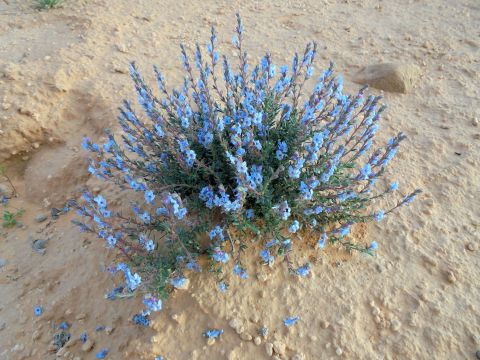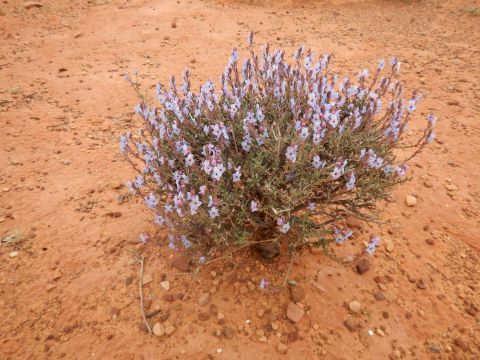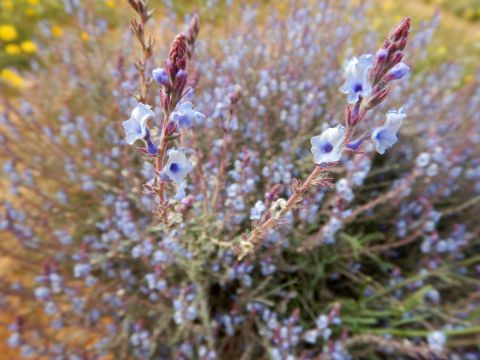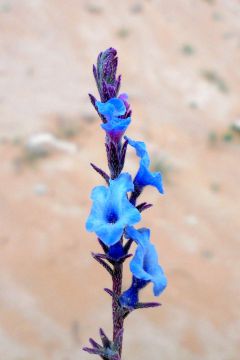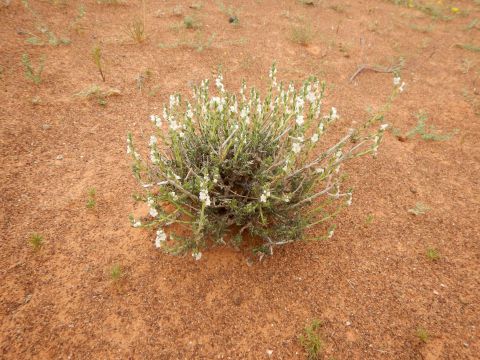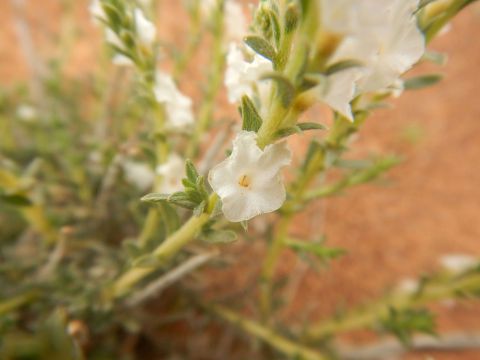 Flowers are the magnificent and vital organ of plants with their brilliant colors that provide eye-catching attributes for amateurs of plant sciences, botanists and pollinators. For botanists, petal color is a valuable feature for plant identification. For instance, the petal color of Boraginaceae may be purple, pink, yellow, or white, but is predominantly blue. Flower color change or mutation results from the effects of several physical and chemical factors and even interactions between them. Variation in flower color is mainly driven by the production of anthocyanins, as their presence provides colors of petals like blue (Clegg et al., 2000 ; Sullivan and Koski 2021).
Like many other changes occurring in nature that deviate from the usual, the white color is the result of a genetic mutation (Ramkissoon, 2021). Kaul and Koul (2012) found that a rare mutation of the color of Commelina benghalensis L. flowers from blue to white in nature must have been in response to eco-habitat conditions, stress and selection pressures.
Many plant species have a natural mutation that causes flowers' color to become white due to a lack of color pigment, mainly anthocyanins. Hyacinthoides non-scripta is a common bluebell with one white bluebell only occurring in one of every 10,000 flowers (Harbod, 2015).
Soil pH can play an important role in the color of plants (Zhao and Tao, 2015). Acidification of soil can enhance the color of plant leaves by affecting anthocyanin synthesis (Sun et al., 2008), while no effect on flower color (Liu et al. 2011).
In the arid and desert rangelands of Tunisia, as far as we can remember, we've never seen a white E. fruticosum that is normally blue, but abnormal white flowers have been reported in a single species in close proximity to plants with blues flowers. Albinism in plants is characterized by the white color of organs (leaves, stem, flowers) due to partial or complete loss of photosynthetic pigments. Popular literature indicates that albinism in plants is a very rare phenomenon that has been reported in more than 50 plant species (Silva et al., 2020). Maybe also, E. fruticosum has been failed to produce flower pigmentation and as a result, its flowers are becoming abnormally white. The references do not include albinism in E. fruticosum, some research should be conducted, to discover that the flowers were an albino or a new variety of Echiochilon.
Clegg MT., Durbin ML. 2000. Flower color variation : a model for the experimental study of evolution. Proc Natl Acad Sci USA. 97 : 7016-7023. 10.1073/pnas.97.13.7016.
Desfontaines R.L. 1798. Flora Atlantica : sive historia plantarum quae in Atlante, agro tunetano et algeriensi crescunt. Tomus secundus. Paris, Panckoucke.
Gamoun M., Louhaichi M. 2012. Botanical Composition and Species Diversity of Arid and Desert Rangelands in Tataouine, Tunisia. Land, 10, 313. https://doi.org/10.3390/land10030313
Harbod M. 2015. May – the time for carpets of bluebells. Nature blog. http://www.hollingtonwood.com/2015/06/29/may-the-time-for-carpets-of-bluebells/
Kaul V., Koul A.K. 2012. Flower color mutant and its possible significance in Commelina benghalensis L. (Commelinaceae). The Nucleus 55 (2), 89-93.
Lebrun J.P. 1979. Eléments pour un atlas des plantes vasculaires de l'Afrique sèche. Etude botanique de l'I.E.M.V.T. 6, 2, Maison Alfort 255 p. + 48 cartes.
Ramkissoon J. 2021. Bluebonnets that aren't blue ? How different colors, including white, can pop up in the state flower.
Silva L.A.S., Sampaio V.F., Barbosa L.C.S., Machado M., Flores-Borges D.N.A., Sales J. F., de Oliveira D.C., Mayer J.L.S. , Kuster V.C., Rocha D.I. 2020. Albinism in plants : far beyond the loss of chlorophyll. Structural and physiological aspects of wild‐type and albino royal poinciana (Delonix regia) seedlings. Plant Biology. doi :10.1111/plb.13146
Sullivan CN., Koski MH. 2021. The effects of climate change on floral anthocyanin polymorphisms. Proceedings of the Royal Society B : Biological Sciences. DOI : 10.1098/rspb.2020.2693.
Täckholm V. 1974. Student's flora of Egypt, 2nd ed. Cairo University Press, Cairo.
Zhao D., Tao J. 2015. Recent advances on the development and regulation of flower color in ornamental plants. Front. Plant Sci. 6 : 261. doi : 10.3389/fpls.2015.00261.